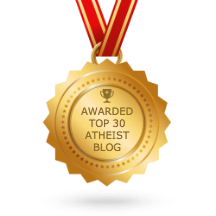 Some have been wondering what happened to atheist blogs and why it seems like many of the good ones
have been disappearing
. It was in that context that I was happy to see that Feedspot recently added a page featuring the "
Top 30 Atheist Blogs and Websites Every Atheist Must Follow
." Of course, I was even happier to see that
Atheist Revolution
was included along with heavy-hitters like Friendly Atheist and
Godless Mom
, as well as some of my favorite smaller blogs like
Atheism and the City
. Hopefully, this list will give people a place to start as they look for atheist blogs to read.
There are a couple of interesting things about this list that make it a bit different from many I have seen before. First, it is not going to be static, meaning that the blogs and websites listed are likely to change. In fact, Feedspot says, "Data will be refreshed once a week." I assume that means we may see some sites drop off and new ones appear. You can find some of the blogs I'd like to see make it onto the list in
my blogroll
. And that reminds me, I have added a few blogs to the blogroll lately to replace some of those that were removed now that they are no longer active.
Second, the methodology used to identify suitable blogs and websites appears to be multifaceted. They list four criteria: Google reputation and search rank, influence and popularity on social media, quality and consistency of posts, and editorial/expert review. I must say, I like this approach over those that utilize only one of these criteria.
If I have any criticism of the new Feedspot list, it would be that I'd prefer a list of blogs rather than one combining blogs and websites that clearly are not blogs (e.g., Reddit). And no, I have no idea what
Randal Rauser
and some of the other explicitly anti-atheist blogs are doing on the list either. Hopefully, that will get sorted out over time and they will be replaced with more suitable atheist blogs.